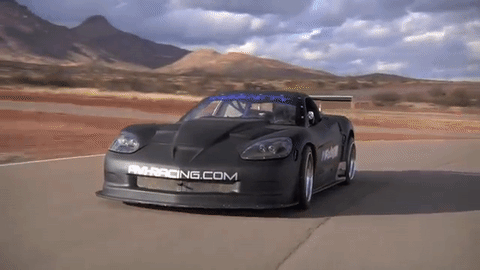 A ride in the crazy 505WHP AVI Racing Corvette GT1.
There are a few things in this world that give me true happiness beside my family, and that is fast cars. The Corvette has always been fast but what do you mean by fast? Different people have different perception about the word fast. Some say a stock Vette isn't fast enough, some others say 800 horsepower does not qualify as fast, and then there's me. I think that you can make almost any car go fast in the straight line, but the thing I care the most is, how fast can you make it corner.
Corvettes are amazing at everything speeds, corners, comfort, but we're not here to talk about stock cars, we're here to talk about this particular race tuned Corvette GT1. This baby is not only fast but spectacular at corners too. Its engine produces 505 WHP, and it has a stiff chassis that is made out of fiber glass. You would think that this Racing Corvette will cost you a nice $200K, but you're wrong. The AVI Racing team has designed and tuned this Corvette to be pretty cheap and affordable for almost anybody, and it costs around $60K, not bad for a track car. Take a look at the video as it shows a lot more features about this track monster Corvette GT1.

Racing Corvette