The Gas Guzzler Tax that will "slow down" the Eco-Boost powered 2017 Ford GT.
Supercars are vehicles that not many of us can afford, not only because of their price, but also for the maintenance, the insurance, and the poor gas mileage they have. It's all of these factors that make a supercar very expensive to afford by the mid class people, and that's the way it's supposed to be, because supercars were not made for everybody, and that's why today we're going to talk about the Eco-Boost powered 2017 Ford GT. If you think that the "Eco Boost" logo on the 2017 Ford GT means better mileage than other supercars, you better think again.
The EPA just announced its fuel-economy ratings for the 2017 GT and its twin-turbocharged 3.5-liter V-6: 11 mpg city, 18 mpg highway, and 14 mpg combined. The EPA also rates the V-12 Lamborghini Aventador coupe at 11/18/13 mpg, the twin-turbo V-8 Bentley Mulsanne at 11/18/14 mpg, and the 450-hp F-150 Raptor with a similar EcoBoost engine at 15/18/16 mpg. The EcoBoost GT's ratings are also worse than those of the old supercharged V-8 2005 Ford GT, with its 12/19/14 mpg (note that EPA evaluations have changed since then, and these are adjusted numbers). By our estimates, that means the 2017 Ford GT, equipped only with a seven-speed dual-clutch automatic transmission, will be slapped with a Gas Guzzler Tax of about $3000, not that the extra cost will dissuade anyone from forking over some $400,000 for the car. Gas mileage and is one of the first official specs to come out from the Ford GT. Ford says that the Eco Boost engine will produce an amount of 600 horses. Seems like a powerful statement by Ford, even though their aiming for the best power to weight ratio, we still have to "weight" and see the official results of the car. As for the gas mileage, let's be honest, no one's gonna buy a 2017 Ford GT and worry about Gas Guzzler Tax and how much fuel will it burn. They will be too busy setting track times and look at the speedometer to look at the gas mileage. At the end of the day, this is a vehicle created in large part for a racing program, and the people driving it probably will not care that they'll be using an estimated 7.1 gallons of premium gasoline per 100 miles.
Watch more: Here's More Footage of the Ford GT GTE In Testing!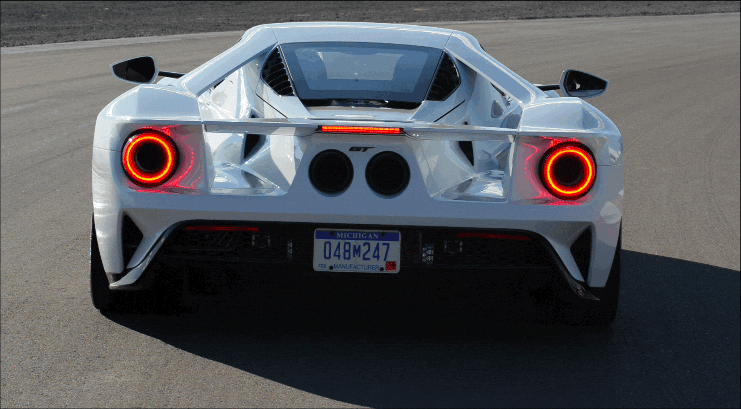 Gas Guzzler Tax