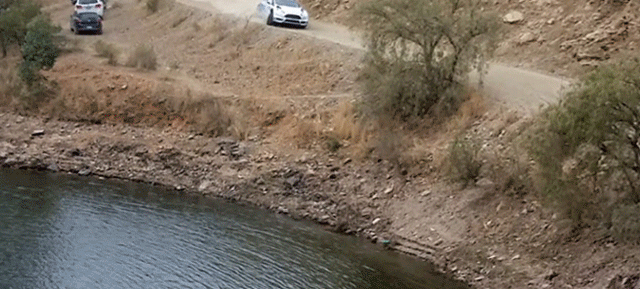 Remember that video we showed you of rally champion Ott Tanak flying through a crowd in his WRC Ford Fiesta?
ll, his luck unfortunately ran out. After coming around a bend, Ott struggled to keep the car straight, and ended up understeering straight off of a cliff into a ravine. The resulting footage is astonishing. What's even more disturbing is that after the incident, the WRC lost contact with the crew for 17 minutes. Considering that we live in a time where you can send a needless selfie from pretty well anywhere, that's unacceptable.
After the crash, the WRC Ford Fiesta was finally pulled out of the lake and was repaired and ready to go for the next day. All the soggy wiring, the windshield, roof panels, everything was fixed after just a night of wrenching. The team did encounter a few electrical problems the next day, but considering that the WRC Ford Fiesta was even drivable is a miracle. Raigo Moldar, Ott's co-driver, even managed to save their pace notes from a soggy death. In fact the first thing he did once they mercifully arrived at their hotel room was set out the notes to dry.
Rally racing may truly be, the greatest form of motorsport on the planet.