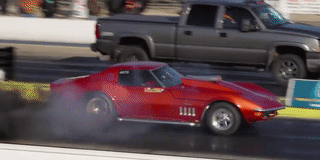 Is this C3 Corvette the first coal-rolling Vette in the world?
Corvette's are a dream of a car. They are beautiful, fast, and for the performance they offer, they don't cost that much. Some people have bought a Corvette just for the V8 engine they have under the hood, because they believe that the engine is what makes the Corvette such a great machine.
But this 1968 C3 Corvette with a Cummins diesel straight six engine, tells a different story. This beautiful monster started its life as a normal 1968 coupe, but its real history began only after it got rear ended badly. Ryan Lusk the owner of the car, wanted to build a drag race out of his C3, that's why he didn't restore the car to it's factory spec. So he took out it's stock engine and put a 396 cubic inch V8, along with a drag ready four link suspension. Ryan raced his Corvette till someone challenged him to do something different with his C3, and that's why he decided to take out his V8 and put a 5.9 liter Cummins 6BT inline six cylinder turbodiesel engine, like the ones you would find in a mid 2000s Dodge Ram 2500 pickup. It's an odd combination but that doesn't mean it's slow. Lusk was able to run the 1/4 mile in just 11.88 seconds at 129 mph. Not bad for a diesel.
c3 corvette