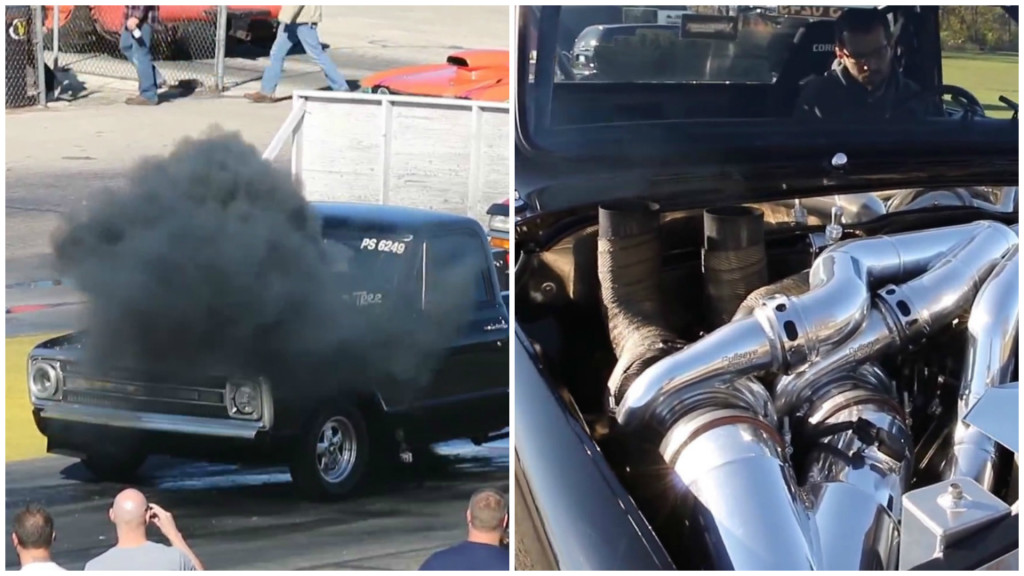 Thanks to a YouTube user VictoryRedColorado,we learned the story of one guy's triple turbo diesel C10
Here's the description from his YouTube channel: My grandpa gave me the truck when I was 15 years old. My dad
(Don) and I took the whole truck apart and sandblasted everything. We did all the body work that needed to be done and my dad painted it for me. That was 16 years ago and the truck still has the same paint job on it. We put a tune port fuel injected motor in the truck when I first got the truck. I spent the next ten years putting different sbc engines in it. The last gas engine I had in the truck was a supercharged fuel injected 383 stoker motor. I had always wanted to install a diesel in the truck because that's what I do for a living. I'm a
diesel mechanic. So in 2009 I found a Workhorse bus that was a rolling chassis with the Duramax engine and Allison transmission in it. I bought the bus and started fitting everything into my truck. We got the truck running in 2010 and added a Danville Performance ( DP) VGT 68mm turbo and DP EfiLive tuning.
The truck ran and drove great. I was able to run a 11.0 in the 1/4mile. Over the winter of 2011 I made a twin turbo system for the truck. Still with the stock engine I was able to run a 10.6 in the 1/4 mile. Later that year I ended up bending all 8 connecting rods. In 2012 I went to DP and we built a new motor
using better connecting rod and pistons. I was able to run a best of 9.4 in the 1/4 mile. In 2013 we added a little more power to the engine and was able to
run a 9.2. At the end of the season in 2013 we decided we wanted to start racing in the ProStreet class for the NHRDA. So we built a new motor and had
HSP Diesel fab up a triple turbo kit for the truck. The engine has Wagler Competition cylinder heads, Bullseye Power turbochargers, Danville Performance built motor and a Rossler turbo 400 transmission with a Neal Chance Racing
Converters torque converter. We only made it to a couple races this year but we qualified to race at the world finals for the NHRDA in Ennis TX. We ended up
winning the World Finals and setting a new prostreet world record with a 8.810 @ 158mph. The best part of this truck is I still drive it on the street and it even has A/C.
Furthermore we suggest to watch the video, also feel free to share with us your opinion.