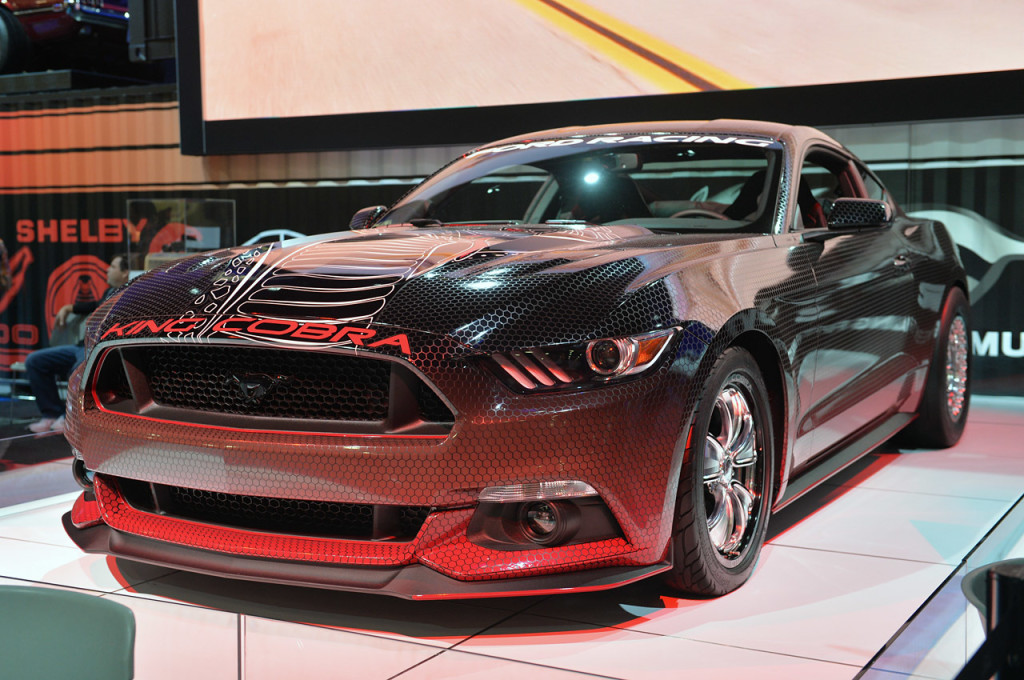 As you may have noticed,this year SEMA show is full with customized Ford Mustangs. This time Ford has unveiled its new Mustang GT King Cobra which was built in association with Ford Racing Performance Parts. The director of Ford Racing,Jamie Allison says "At Ford Racing, we like to push cars to their absolute limit.This is something we have been doing for 113 years and why we were so excited to get our hands on the all-new, 2015 Mustang. We wanted Mustang enthusiasts to be able to open up the Ford Racing parts catalog and get one of everything and see what they could get. We think the King Cobra package is it. But none of this great work would be possible if Team Mustang had not built the best production Mustang yet."
Ford claims that the new Mustang GT King Cobra can run a quarter mile in just 10.97seconds.It's possible that any owner of King Cobra can go through Ford Racing's extensive parts catalog and modify their own car.This includes Drag Pack,Handling Pack and the last but not least Super Pack that is everything you could ever imagine for your Mustang,it adds a supercharger to the Mustang GT's 5.0L V8 making it produce over 600horsepower.
What do you think? Feel free to share with us your opinion.