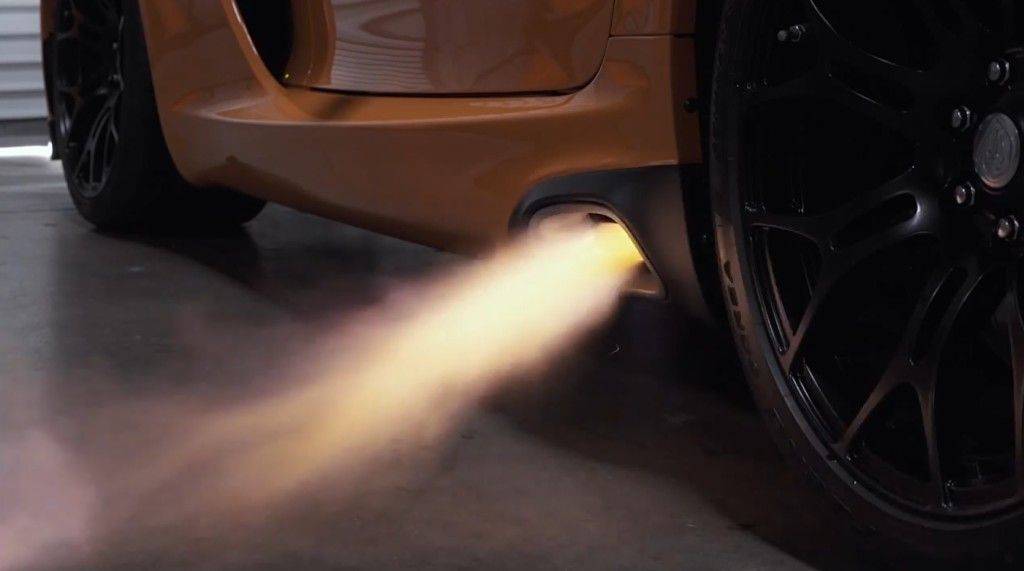 The Viper TA is the best stock Viper money can buy! TA means "Time atack" so this explains everything why the TA version is the best one. The package costs you $16,000!
The package includes: Advanced Aerodynamic Package (two-piece front corner splitters and a rear decklid spoiler made from carbon fiber), lightweight Sidewinder II wheels finished in matte-black, Pirelli P Zero Corsa tires, two-mode (Street and Race) Bilstein DampTronic suspension adapted from the GTS, but with firmer levels of damping and a smaller spread between modes, shock dampers, increased spring rates and thicker anti-roll bars, carbon fiber underhood X-brace (instead of the aluminium brace in all other models), carbon fiber rear tail light applique from the Exterior Carbon Fiber Accent Package, two-piece Brembo brake rotors with wider brake annulus, black-anodized Brembo brake calipers painted with the Viper logo in TA Orange, TA logos behind both front wheels and a Stryker decal instead of the standard badge on the hood (TA Orange on the Venom Black cars, black on the TA Orange and Venom White cars), black interior with TA Orange accent stitching on the ballistic cloth seats, instrument panel & cowl, center stack, console, hand brake, shifter boot, and door panels.
Well, crazy enough! But petrolheads can't get enough of anything! They always want more and more and more, so, because of that, RSI Racing Solutions thought of making a few touches on the TA.
This is what it's all about: The dual 72mm turbos spin up with ease and create quite the clatter at the rev limit. The resultant acceleration rockets the Viper from around 90 to over 140 mph in what seemed like an awfully short time. But then again, that's what happens when you have 1042 horsepower and a burly 973 lb-ft of torque on tap.
Dodge only built 159 Viper TAs for 2014. If you were lucky enough to get one and would like yours to instantly turn rubber into bubbling puddles of goo, we suggest tracking down one of the guys at RSI, deffinitely!