This is a 1966 Chevelle Super Sport (A true 138 car).The car was bought in 2005 from a guy in Georgia and its owner shipped it back to his country Canada.The block had a small crack in it and all lines fuel/brakes were seized when it was originally bought so the owner had no other choice but to push it up into the garage and then he started tearing it down.He did a full frame off restoration / build. The passenger fender / door skin and roof is all that's left of the original metal,the car was pretty routed out.
Mark Bernhardt is the 3rd owner, the previous 2 owners lived right by the original dealership Welborn Chevrolet in Rome Georgia. The car had been parked since 1986 and was completely rusted out.Mark says that he bought it because all the parts were there and all the #'s matched.He is just finishing it up,Mark's got about 1000 miles on it now.It has its original block, heads and Muncie 4spd all cleaned up.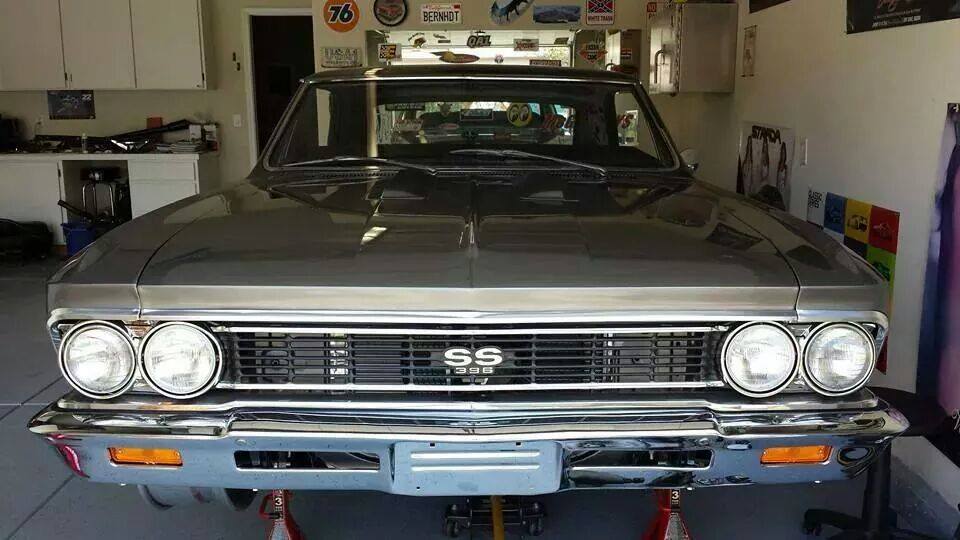 The engine is bored out to a 402 and Mark put a big Erson roller cam in it.He ported & polished the heads, roller rockers, hyd lifters and he narrowed the rear end 2″ each side to fit the 20 X 10 4 1/4″ b.s. with 285/30R20. Upfront the car is running McGaughys upper / lower A-arms and 2″ drop spindles with QA1 adjustable coil overs 19×8 5 1/2″ b.s. 235/35R19.
Some other upgrades include pypes performance exhaust 3″ polished stainless X-change / elect cut outs / Violator mufflers. Spectre performance air intake CPP Hydroboost,TMI Sport seat covers,Billet Specialties Tru Trac pulley set up,Stahl headers Intro wheels American auto wire harness.Just the thought of what the car was and into what it is transformed gives you the chilles.Truly amazing and we can say that this is a love story on its own.I wonder if the previous owners would recognize her lol.