Back in 2007,their 1600hp Wild Viking Volvo truck beat the world record for the 1000m stand-start,with an average speed of 96.87mp/h.
Three years later,their NH D16 prototype went even further by reaching 103.5mp/h.
But they went even further than that,by creating the so called Mean Green,which packed 1800 diesel horsepower plus an 300 electric motor,all this power was good enough for an average speed of 147mp/h.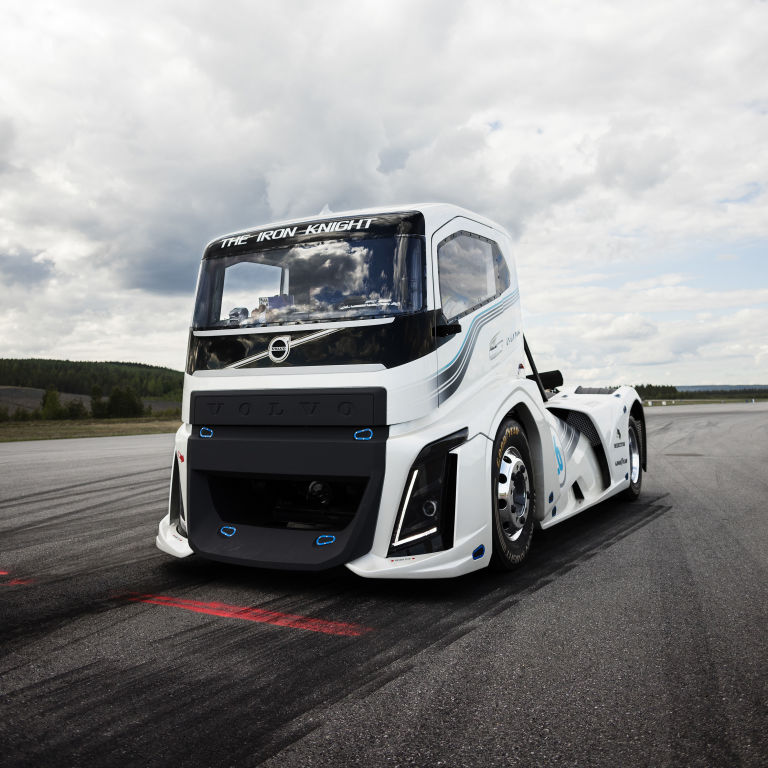 Now, they came up with The Iron Knight Volvo truck ,their latest and greatest creation ever,which houses a heavily turbocharged engine,and a standard I clutch transmission,with a reinforced clutch.In other words,Iron Knight is the worlds fastest truck. It has an upgraded D13 diesel engine,with a water-cooled intercooler,and four turbochargers,and a fiber glass cab.
The engine produces 2400 horsepower and 4425 pound feet of torque,and at 10,080 pounds, it weighs 2204 pounds less than the hybrid 'Mean Green' did, putting its a power-to-weight ratio above 0.5hp/kg, which is roughly half as good as a Koenigsegg One:1's.The Iron Knight set two FIA world records at a former airfield in northern Sweeden,reaching a top speed of 171 mp/h.The Iron Knightcovered 500 meters in 13.71 seconds from the standind start at 131.29 km/h,and 1000m in 21.29 seconds at 169 km/h.You don't need to be a genius to know,that Volvo trucks did all this to promote their I-shift dual clutch transmision,which was put in the recorder truck straight from a series Volvo FH,with the addition of sintered discs and pressure plates. Volvo is very pleased of how this unit can shift without dropping the torque,which can greatly improve the efficiency,and that's what trucks are all about.
Volvo truck