LS Miata By Omar C.
We live in a world where often we joke about Mx-5's being cars for hairdressers, and we sometimes poke fun at people who LS swap cars from the land of the rising sun. And then comes the LS Miata.
Well, think of what became of a certain older, small, nimble roadster when it got a dose of raw power in the form of 427 cubic inches of all American V8.
I'm talking about the AC Ace, of course, the one that became the legendary Shelby Cobra, thanks to a high displacement American engine.
Something similar happens when you inject the iconic Japanese roadster with a GM sourced LS V8 engine, and yet some consider it sacrilegious.
Purists may argue that such a gargantuan powerhouse corrupts the spirit of the Miata; however, they seem to forget the Mx-5 was never designed with its engine as the focal point.
Unlike the Mazda Rx7, the Miata is not defined by its engine; the little roadster is akin to a blank canvas that gets driven around a track, and the myriad of modified examples proves this. Form bolt-on supercharger kits, to turbo setups, and even various engine swaps ranging from typical Japanese four cylinders like the Honda F20C to the rarer KLDE Mazda V6.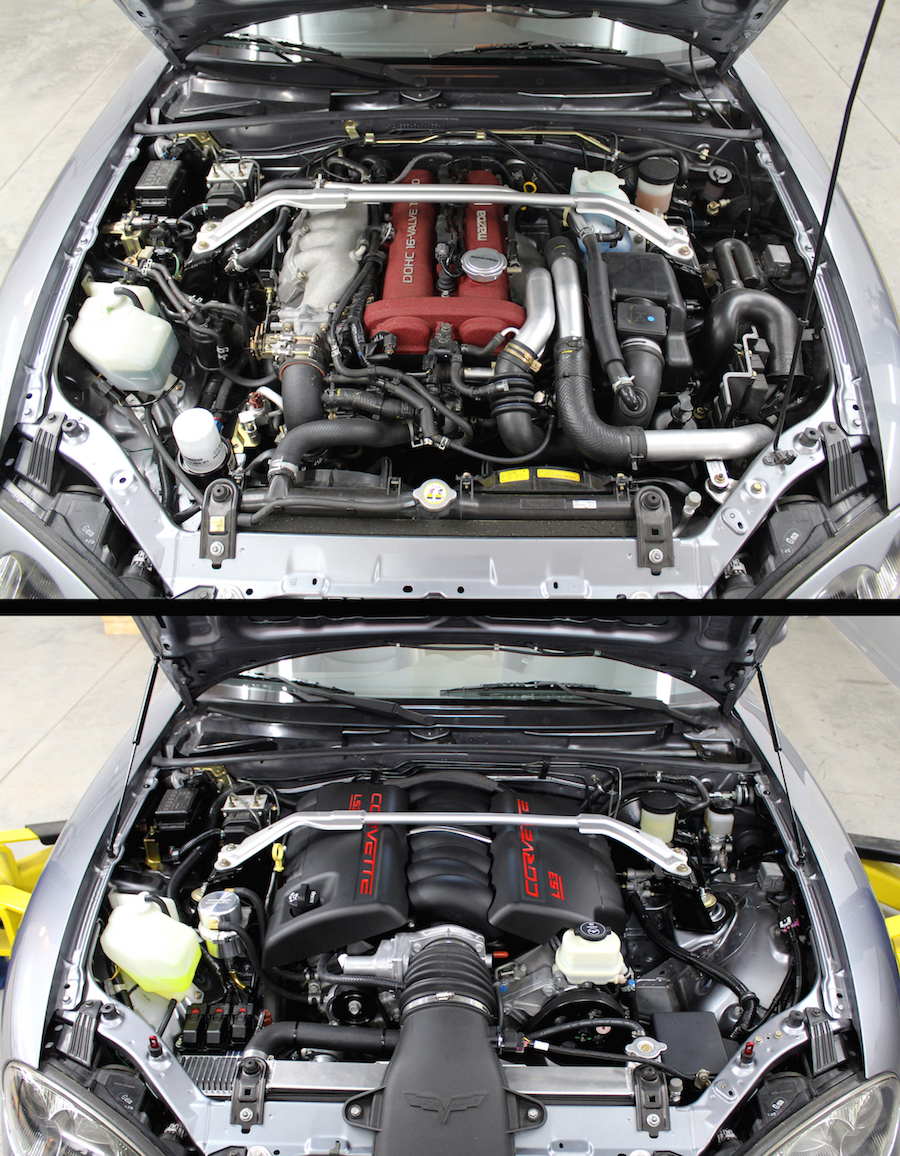 It is only natural that an LS Miata would be considered a cost effective and convenient route for modifying an Mx-5, the weight distribution that is trademark of this roadster isn't negatively affected in a noticeable way, and supporting modifications to the suspension compensate for the slight increase in weight.
The LS engine completely transforms the nature of the Miata, or rather; it enriches it, tracing power over the blank canvas that is the Mx-5, giving it a rough character, and the roaring exhaust note that Americans seem to like most: A furious V8 growl.
The performance is greatly improved, and while the LS engine might be somewhat of an old design conceptually, it's built to work with the latest technology, making installation and maintenance relatively easy.
Would you build a LS Miata?
For more watch the series from 1 to 13 of the LS swap Miata videos by Tom's Turbo Garage, enjoy: