The Dakar rally has had two major incidents recently.
During stage 7 in the Dakar Rallying, the 409 Mitsubishi Lancer of Lionel Baud hit a spectator during the special stage of Stage 7, at approximately 52 miles into it.
Dakar Rally Organizers released the following statement.
[No. 409] hit a 63-year-old man who was isolated on the race course.
Once at the [accident] site, the medical service of the organization unfortunately could only note the death of the injured person.
Alerted by the organization, the Bolivian authorities represented by the prosecution, went to the site by helicopter of the organisation in order to determine the circumstances of the accident.
Another accident occurred involving the number 660 Assistance vehicle, injuring five and ending one life.
Local news source Marca had the following statement
Two trucks and four cars were involved in the accident, including the Mitsubishi of Baud and [codriver] Thierry Dezeiraud of the ProMan Desert One team, which ended in a ditch. "The large vehicle, carrying various products such as shoes and detergent, after the crash, lost control, collided head on with the assistance truck and rolled into a Peugeot 505. The [Peugeot driver], who was literally crushed, died instantly," [reports] the local site Cadena 3.
In addition to the two trucks, Baud's Mitsubishi and the Peugeot 505, a Ford Falcon, Ford Fiesta Kinetic and Toyota Corolla were also involved [in the accident]. The police confirmed that the deceased is a man who lives in the Córdoban region of Juárez Celman, but would not release his name. In addition to the deceased, two others were seriously injured and taken to the Emergency Hospital in the city of Córdoba.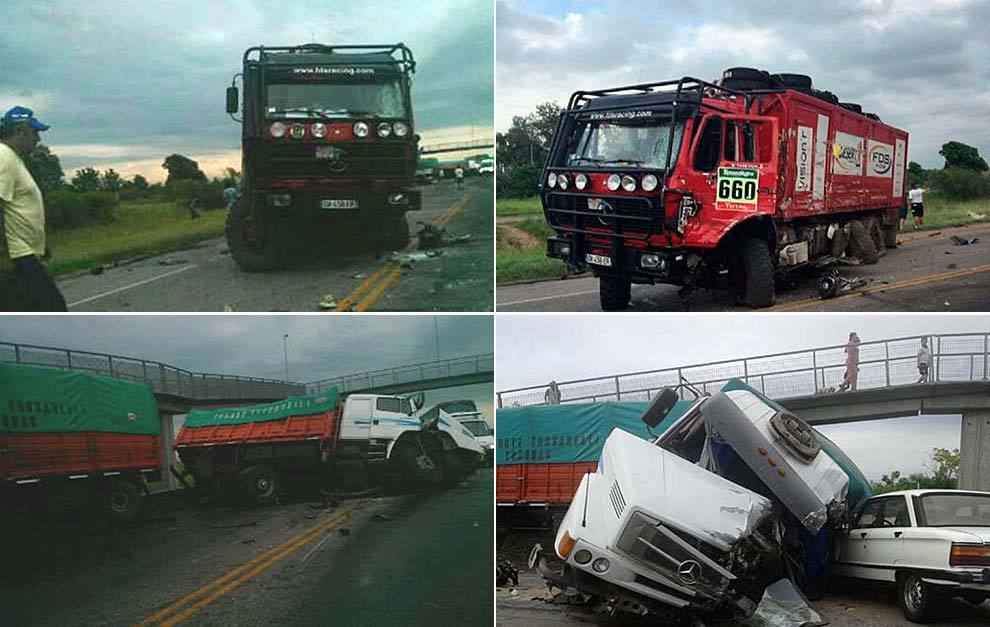 dakar rally