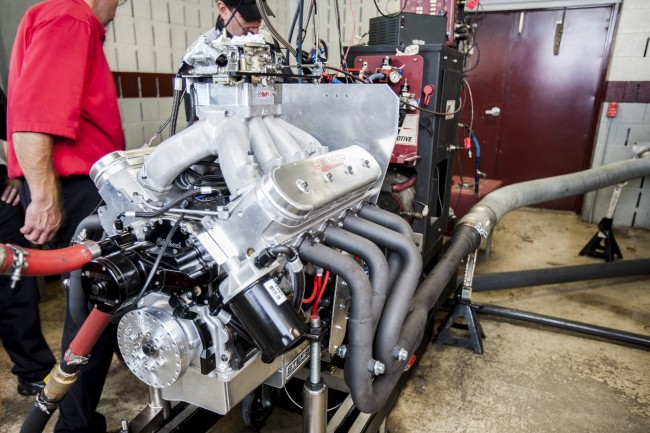 Here it's an amazing 401 cubic inch engine by BES Racing Engines at the Amsoil Engine Masters Challenge 2014!
John Lahone and Bes Racing entered this event with a LS engine.While making a close look at this engine,are shown individual coil packs hidden on plates behind the
headers.It's also topped by Holley carburetor and the iron 6.0 stock truck block seemed very simple until you make a more detailed look and you'll be able
to see a pair of LS7 heads.Inside of this engine is hidden BES porting ,bringing the head flow to a peak of 375cfm.This 400 cubic inch engine can
produce 668Horsepower.But we found very interesting the ''torque sector'',climaxing at 590 ib-ft of torque.
This powerful engine set a score of 2895,3 knocking out of this battle the Nagel Hemi with only two points difference between the two.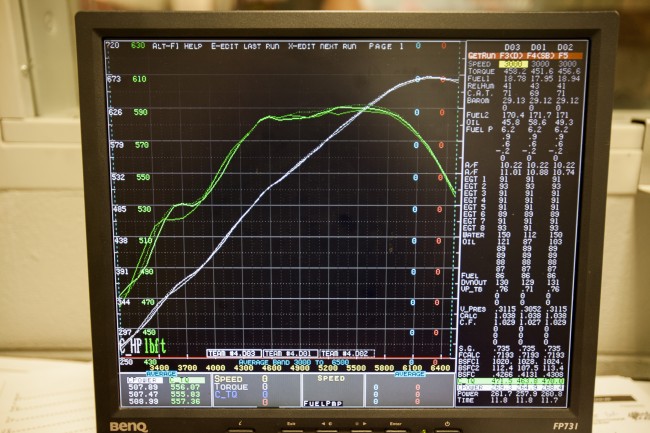 Here are some specifications about the engine :
Builder: BES Racing Engines
Engine Type: GM LS
Claimed Displacement: 400 4.100×3.78
Block: OE GM 6.0L
Compression Ratio: 11.45:1
Crankshaft: Eagle with 2.00 pins
Connecting Rods: Eagle H-beam with .866 piston pins
Pistons and Rings: Horizontal gas ports, Total Seal rings
Camshaft: Comp hydraulic roller with 242/246 duration at 0.050, 0.760/0.769 lift, 104-degree lobe separation angle
Cylinder Heads: RHS LS7 ported at BES
Intake Manifold: All Pro ported at BES
Carburetor: Holley
Headers: 1-7/8, 2-1/2-inch collectors
Amsoil Oil: 5w20
Average Peak Horsepower Over Three Pulls: 668.00
Average Peak Torque Over Three Pulls: 589.67
Score: 2895.3
Furthermore we suggest to watch the video, also feel free to share with us your opinion. Source: hotrod.com