This 900HP Winnebago RV from Ringbrothers is the perfect roadtripper.
If you're the type of guy that has a family and likes to take long vacations, to visit all the beautiful locations your country has, then we have the perfect vehicle built just for you. We all know that having a big car you always have to drive on the slow lane, but not anymore.
We present you the "Happy Camper" Winnebago RV. This RV started its life in 1972, as Winnebago Brave but the Sema Ringbrothers, this RV would turn into the ultimate road tripper. They have replaced the engine with a V8 Wegner Motorsports LS 408, that produces 900 horsepower. The transmission is a 4L80 automatic unit from General Motors, that sends torque to the rear wheels from a 2005 F-550 and as you have imagined by now, this isn't your everyday RV. The Ringbrothers didn't change too much on the Winnebago RV exterior, they didn't even restore or repaint the body, they have just put a couple of stickers and a detachable bike, but the interior is where the fun begins.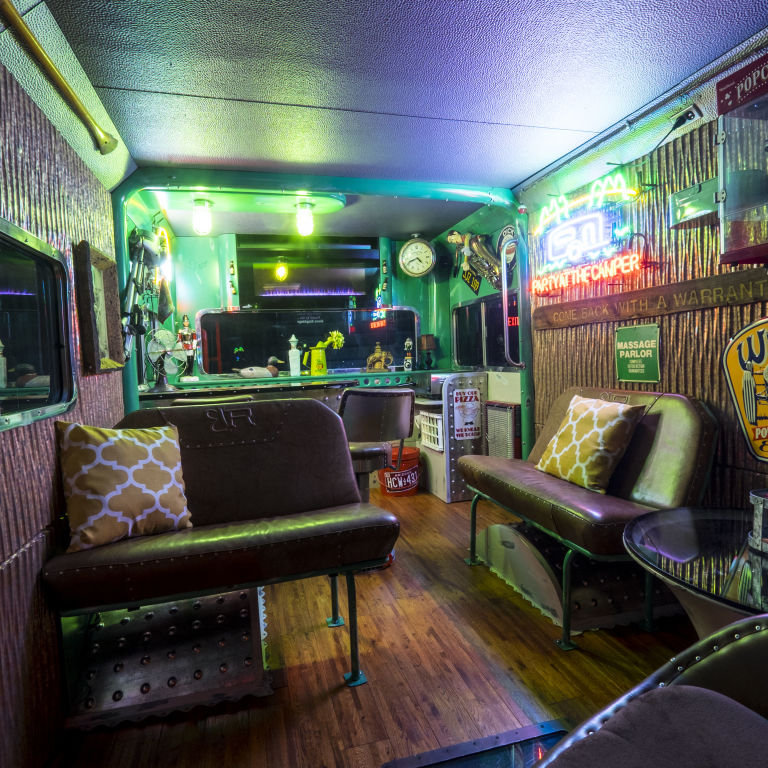 Almost everything has been redone, from the drivers seat, to the minty green paint, and the new gauges and also the glass engine cover, so everyone can see the supercharger poking out. There's also a boat engine hanging off the wall, as well as a flat screen TV over the windshield, and also there are a couple of neon lights that give the RV a chill smooth feel to it. It doesn't have all the sleeping arrangements for your family road trip, but it does have the necessary things to spend a lot of time in it, and also don't forget that is cool as hell and that the Winnebago RV has 900 horsepower.