From an astonishing documentary of Graeme Jenrey we have a ''Now & Then'' a real revolution of Corvette!
From this short documentary you will be able to know maybe one of the greatest fans of this brand and he is Joe Gallo who is sharing with all of us his story and his thoughts about his '65 Corvette Stingray and compares it with the 2014 Stingray.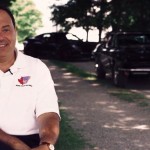 "The earliest memory was walking home from school and seeing a Corvette Sting Ray race a Jaguar, a British Racing Green Jaguar," Gallo recalls, "and we talked about this for weeks as kids. We would draw on our books the Corvette beating this Jaguar, leaving it in the dust, and I'd wanted one ever since I can remember."
Throwback when he was 27 years old,Joe picked up a magazine with a Daytona blue split window coupe on the cover "and I thought, God, what a beautiful car! I looked to the left and there was an Auto Trader and I thought, hmmmm. I pick up the Auto Trader, come home, open the page, and there it was – my car! I just couldn't believe how beautiful the car was. I mean it really knocked my socks off."
And the most lovely & interesting part was saving money for 10 years to be able to buy the dream car.His beloved and forever favorite,a '65 327-365 horsepower car.Furthermore it was one of 227 cars with air conditioning.
"Some of the classic cars kinda ride like a boat anchor, if you really want to know," he says. "This particular car … by 1963, Corvettes had four-wheel independent suspension. I mean the handling was phenomenal and this car being almost 50 years of age, it's phenomenal how well it rides compared to today's cars."
But the love for the last generation of Corvette (2014 Stingray)still continues and its obviously when he says :
"I think with this car they really nailed it," he says of the seventh-generation Corvette. "They brought back a lot of styling, and that's what the car needed. I love the way they brought the hood grilles back into play. The back hatch, the way it's configured and it slopes back. The exhaust note. You know, you got navigation, and then you got all the other electronic stuff that is just above and beyond comprehension. No, they nailed it – General Motors really did their homework on this one."
He calls it a "world-class piece of equipment" that for $70,000 will put you on a level with Ferrari's and Porsche's.
"The 2014 is phenomenal, It almost drives itself. Whereas the older Corvette, yeah, you've got to work it, you know, it's not as easy to drive."
But in the end,you know ,they're both Corvettes
"Both cars exhuberate a certain type of excitement,"
"And whether you're driving the '65 or whether you're driving the 2014, the minute you get out of the car, you've got a smile on your face from ear to ear!" he says! And yes that's a never ending love for his car
Furthermore we suggest to watch the video, also feel free to share with us your opinion
Now & Then – Corvette Stingray from Darkcar on Vimeo.