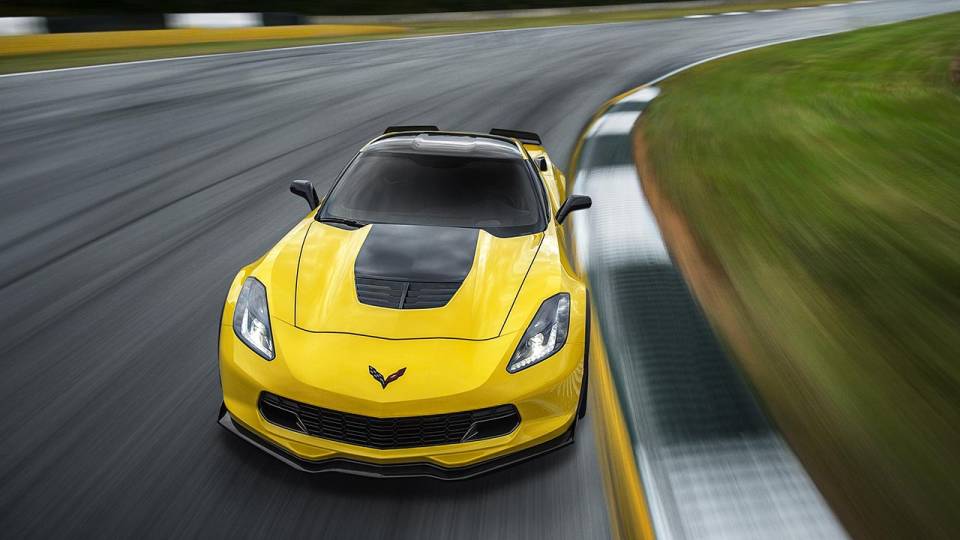 The 2015 Corvette Z06. 650 hp and costs $78,995 which is a good deal, so fast but so cheap too. It;s powered by an supercharged, 6.2-liter, direct-injected pushrod V8, which produces 12 hp more than the LS9 V8 in the old Corvette ZR1, which was also supercharged. The Z06 offers standard magnetorheological dampers and select carbon-fiber body panels. It has electric power steering, a seven-speed manual, an optional eight-speed automatic, and an electronically controlled, variable-lockup limited-slip differential. Also a removable roof panel and an available convertible model. It weighs 1604 kg thanks to the base C7's aluminum frame-20 percent more rigid than that of the previous Z06. Chevrolet says the convertible needs no additional structural reinforcements, weighs within 27kg of the coupe, and is tuned identically to it. On either car, if you choose the carbon aerodynamics package, you get a carbon-fiber front splitter,
carbon rocker extensions, a larger spoiler, and small nose winglets. If you are the sort of person who sits up nights figuring out how to fit slicks and
a straight pipe to his dishwasher, the track-focused Z07 package (which costs $7995) is built for your weirdo brain. It brings the carbon pack plus the carbon brakes, Michelin Pilot Sport Cup 2 tires, a 59-millimeter, clear-plastic Gurney flap on the trunk and larger winglets.
There's more here than just a bonkers engine. Because the Z06's rear fenders are more than three inches wider than those of the base C7, the taillights are three inches farther apart, to keep the newly enplumped rump from looking cross-eyed. The grille is so effective at humping air into the engine bay that Chevrolet says the engine actually sees less air volume with the grille removed. Scoops on the rear-fender vents force 50 percent more
air to the newly enlarged transaxle coolers. And while the Z07's clear Gurney "looks a little NASCAR," as one engineer told me, it also causes air to bunch up over the rear glass, providing 80 percent of the Z07's total downforce with a center of pressure just in front of the rear wheels.
Hmmm, well, we love that it will have a manual transsmision